Natural Essential Oils And Their Uses In Cosmetic Industries
WHAT IS AN ESSENTIAL OIL?
Essential oil is a natural product that comes from extracting different parts of plants including flowers, leaves, stalks, barks, rind and roots. There are over 90 variants of Essential Oils! Each with its own inimitable aroma and potent health benefits.
The NATURAL ESSENTIAL OILS are volatile compounds that have oil fragrances. They are generally extracted by cold-press and by the technique of hydro distillation. NATURAL ESSENTIAL OILS are used in every aspect of our daily life.
Essential Oils are often used in aromatherapy, a form of alternative medicine that employs plant extracts to support health and well-being. They act as antioxidants, antimicrobials, antifungals, pain killers, anxiety relievers, and antidepressants. NATURAL ESSENTIAL OILS are USED in the cosmetics and industrial fields, particularly in the perfume industries, which are expanding rapidly.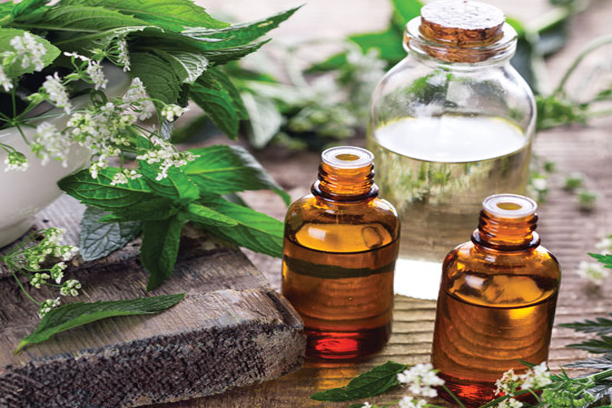 BENEFITS OF ESSENTIAL OILS IN COSMETICS FIELD
There are various beauty benefits of NATURAL ESSENTIAL OILS in cosmetics. These ESSENTIAL OILS are used for SKINCARE and also HAIR CARE. It is being used for the improvement of skin tone, glow, reduces the scars, and also brings very positive results for hair growth. Since this NATURAL ESSENTIAL OIL contains anti-inflammatory, anti-oxidant properties, it makes skin clear and keeps hair healthy.
For the preparation of the cosmetic products, NATURAL ESSENTIAL OILS plays a vital role as their goal is to present clear skin and healthy hair. Several Natural ESSENTIAL OILS acts as the main ingredients in the preparation so that there isn't any ill effect on the health.
Here we will discuss a few of the essential oils which are used majorly in cosmetic products.
NATURAL ESSENTIAL OILS FOR COSMETIC USE
There are a few NATURAL ESSENTIAL OILS that are preferred for use in cosmetics. They show excellent results in skincare and also hair care. They are used for reducing wrinkles and scars. When used daily, they can give you amazing results. You can combine these NATURAL ESSENTIAL OILS along with cream, moisturizer, or hair oils such as coconut oils, argan, jojoba, and so on.
LAVENDER ESSENTIAL OIL
Lavender Essential Oil stimulates cell regeneration, detoxifies pores, and alleviates itchiness linked with dry skin in cosmetics. Lavender Essential Oil is a renowned and flexible oil that can be applied to any part of the body almost for any ailment.
TEA TREE ORGANIC ESSENTIAL OIL
Tea tree oil is a NATURAL ESSENTIAL OIL that contains wonderful properties that can aid in hair growth. This natural oil also has antiseptic properties, so it will safeguard the scalp from infections. Furthermore, tea tree oil is used in a variety of natural treatments for skin disorders, fungal infections, and other ailments.
PINK GRAPEFRUIT ORGANIC ESSENTIAL OIL
Citrus Paradisi oil is another name for Pink Grapefruit ESSENTIAL OIL. It is well-known for its energizing scent, which is both uplifting and inspiring. It is also known to have properties that assist in a stronger hair growth.
CHAMOMILE ESSENTIAL OIL
The antispasmodic, carminative, sedative, anti-inflammatory, antifungal, and antiseptic properties of German chamomile essential oil are well recognized. This is also an ant catarrhal oil that aids in the removal of extra mucus from the body.
KALPANA NATURALS
Kalpana Naturals, leveraging upon its refined process of essential oil extractions and superior manufacturing capabilities, is introducing products of daily use which are made essentially from the NATURAL ESSENTIAL OILS.
KALPANA NATURALS has studied and researched these natural ingredients of human maintenance for years and blended these goodness of NATURAL ESSENTIAL OILS into daily use products. The natural extracts obtained by Kalpana Naturals for their use in proprietary products are all original, authentic and certified by AYUSH. They manufacture a wide range of products like cleaning liquids, detergents, pest repellents, pain relief assistance products, and also clinical products like disinfectants, surgical instruments cleaner, and more. These products have been around for a couple of years now with an ever-growing number of users. Kalpana Naturals maintains quality control of every product above all else.
Kalpana Naturals prioritizes personal health and takes extreme care in scrutinizing every product at each step of production with checks to prevent any impurities that may creep in from the environment; hence making each personal care product pure and free from any harmful chemicals - the products of authentic NATURAL ESSENTIAL OILS.