What is a fruit and vegetable cleaner and why is it important?
Fruit And Vegetable Cleaners
Fresh fruits and vegetables can become contaminated easily due to harmful germs and bacteria present in the environment. Eating fruits and vegetables that are contaminated can lead to the outbreak of many foodborne illnesses. There are many ways because of which fruits and vegetables may become contaminated. Some of these ways are being contaminated by soil or water, by animals, or by poor hygiene amongst farmers and other workers who handle the produce, improper storage, etc.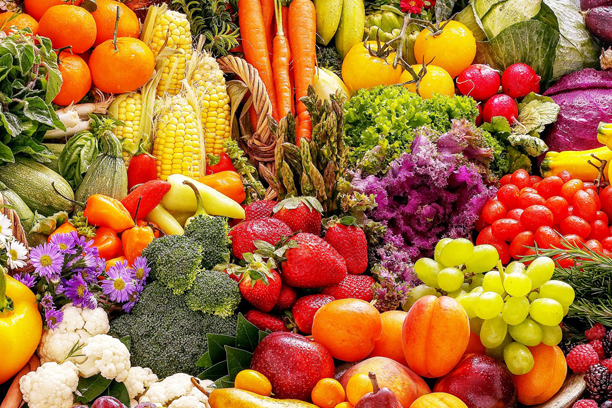 It is extremely important to maintain hygiene and be conscious of it in everything we consume. Therefore we need to use good quality fruit and vegetable cleaner to ensure that the food we eat is properly clean and safe for consumption.
How to clean fruits and vegetables: extra tips
Wash your hands for 20 seconds with warm water and soap before and after touching fresh fruits and veggies.
If damage or bruising occurs before eating or handling, cut away the damaged or bruised areas before preparing or eating.
Rinse before peeling, so dirt and bacteria aren't transferred from the knife onto the fruit or vegetable.
Gently rub while holding under plain running water.
Use a clean vegetable brush to scrub firm produce, such as melons and cucumbers.
Dry produce with a clean cloth or paper towel to further reduce bacteria that may be present.
KALPANA NATURAL'S FRUIT & VEGETABLE CLEANER
The surface of fresh vegetables and fruits can be contaminated with pesticides, fertilizers and preservatives. The produce is exposed to atmospheric fumes and also airborne microorganisms. The cleaner will neutralise harmful chemicals and rapidly assist in the removal of toxic grime and insects, Kalpana Natural's Fruit And Vegetable Cleaner is better than water alone at cleaning fruits and vegetables. This wash contains naturally based surface-active ingredients with no perfume & colours. This 100% natural cleaner is effective in removing pesticides and 99.9% germs from the surface of fruits and vegetables.
Reduces the risk of food-borne diseases
Eliminates germs from the surface
Washes away pesticides effectively
Leaves no smell, residue or taste
Stays fresh for longer
HOW TO USE
Add 1 or 2 capfuls to 5 litres of cold water. Wash or soak the produce thoroughly for 1 or 2 minutes. Rinse well and eat or store as normal.
INGREDIENTS
Non-ionic surfactants with coco Betaine (naturally derived cleaner), Sodium Citrate, Demineralised water and no perfume.
WARNING
Keep away from children. Do not ingest. If the product gets into your eyes, rinse thoroughly with water. Avoid exposure to direct sunlight or hot conditions.
About Kalpana Naturals
For hundreds of years people have lived in harmony with nature, depending on the mother earth for sustenance and livelihood; for longevity and healing. People have used natural products for years to make home for themselves, to decorate their surroundings and to keep them clean. KALPANA NATURALS has studied these natural ingredients of human maintenance and blended these nature's reward of goodness into daily use products.
The natural extracts obtained by Kalpana Naturals for their use in proprietary products are all original authentic and are properly certified by AYUSH. They manufacture a wide range of products like cleaning liquids, detergents, pest repellants, Pain relief assistance products and also clinical products like disinfectants, surgical instruments cleaner and more. These products have been around for a couple of years now with an ever growing number of users. Kalpana Naturals maintains quality control of every product above all else. Right from the procurement of raw materials to the final finished products, strict quality measures are to be taken to ensure the effectiveness of their intended use. Doubtless to say that such quality control measures have enabled a supreme range of products from its state-of-the-art facility in Chilakaluripet (Andhra Pradesh) to fulfill the requirements of its valued patrons in a time bound manner.